Albert Jones Memorials have been registered in the same family ownership since October 1980 and has been recognised throughout the community as a leading monumental mason since 1930. Our company now offers international delivery.
Design, Fixing and Cleaning
Experts in all things Memorials since 1930.
This website is designed to ensure that whatever your query regarding memorials, you will be able to easily find the answers here. Navigate through our 6 expert services and peruse our catalogue of monuments on offer. We have more monuments in our historic showroom and thousands of possibilities via our design service!
Can't find what you're looking for? Feel free to send us a direct message:
Choosing the Correct Memorial
Choice can sometimes be overwhelming
When you are choosing a fitting memorial for a recently departed loved one, you may feel that you want to remember them with a traditional headstone design, or one that reflects their personality, we offer a wide range of styles.
At Albert Jones Memorials we are confident that our collection both online and in store will offer the perfect solution for your needs.
What makes the Standard Ogee a favourite amongst our clients?
A Comprehensive Service
We can support all of your Memorial needs
Our dedicated Memorial Team is only too happy to help and support you in finding, designing, fixing or cleaning your headstone.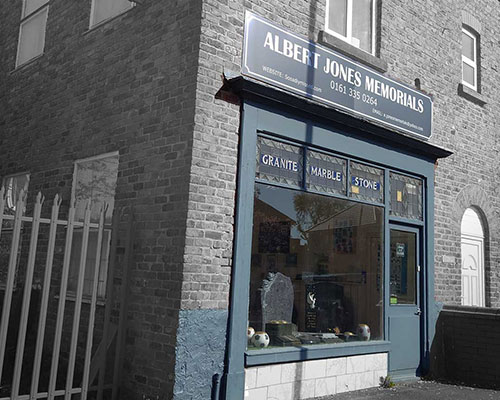 A PERSONAL TOUCH
Designing a headstone is a very personal experience and the support, care and attention we offer to our clients is something we are proud of. If you have a clear idea of exactly what you want, then our skilled masons can make it!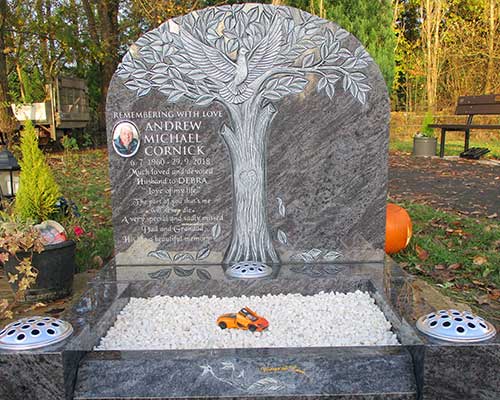 CLEANING & RENOVATION
We are proud to offer an ongoing cleaning and renovation process of memorial stones by our expert stone masons. The techniques will differ according to the material and the age of the stone, but the results can be stunning.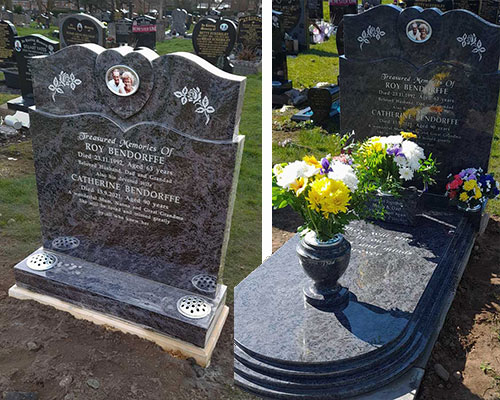 ADDING KERB SETS
Small and large kerb sets are now allowed in certain Cemeteries, meaning they can be added to existing headstones in qualifying locations. As a result, they've become a real consideration when ordering a new headstone.
ENGRAVING AND LETTERING
Our time served Monumental Masons are skilled in the art of engraving and lettering on all types of stone. If you're looking to add a personal message to your headstone or kerb set, we ensure it is perfectly placed and expertly crafted, delivering a beautiful presentation with maximum longevity.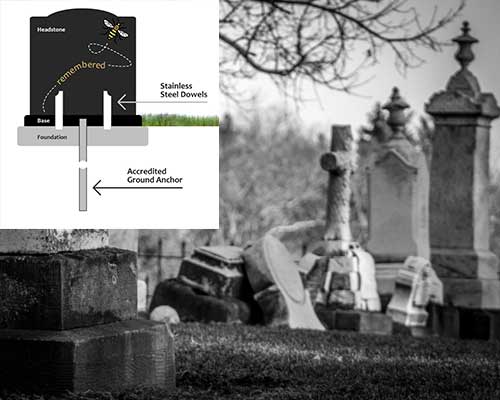 REFIXING HEADSTONES
Since 2002, it is now compulsory to ensure the stability of the headstone over time by fixing the memorials onto what's known as a ground anchor system onto all new Headstones. As expert stone masons, we can also refix old headstones that have become loose or deemed unsafe, back to the approved standard.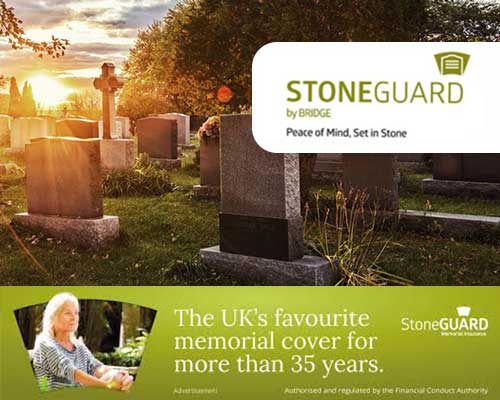 HEADSTONE INSURANCE
Our Headstone Insurance policy is regarded as an 'All Risks' policy and is used by our clients who seek extra protection against unfortunate events. In short, our Headstone Insurance will cover the cost of repair if things like damage from lawnmowers, falling trees and subsidence occur.
Your Testimonials
Words that matter to us
"I would just like to say what a wonderful job Albert Jones Memorials did in the suppling and fitting of my mother and fathers grave memorial.
They were very pleasant to deal with and the whole process was stress free. I am completely happy with the finished product and would not hesitate to recommend them to anyone who has unfortunately suffered a bereavement."
a loving son
Stephen Bendorffe
"Can't rate Albert Jones Memorials highly enough, Deb 'held my hand' through every step of the process and made what was a difficult time, very easy. Great customer service and beautiful headstone - thank you!"
a caring daughter
Clare Lacy
"Amazing service given with all the extra care.
Quality craftmanship with an exceptionally fast turnaround.
Updates were given throughout, putting our mind at ease. Would highly recommend Albert Jones Memorials to anyone in need of a quality headstone."
a caring daughter
Sarah Grindrod
"I would like to thank Albert Jones Memorials for the memorial of my late husband Laurance. Your service was very friendly, helpful and quick. I didn't expect to receive a call so soon to say it was ready for me to see.
Although very upsetting, I couldn't ask for anything more special, down to every little detail we had asked for. It is now a beautiful resting place for my husband.
Thank you so much."
a devoted wife
Sue
"I was more than happy with the service I received at Albert Jones. They were helpful, efficient and offered great advice on something I knew nothing about.
Big thanks to Debs and the rest of the team"
a caring son
Paul Davenport
"Albert Jones memorials have been amazing.
They are extremely professional and at the same time very friendly and approachable and that's what makes the difference at such a difficult time.
Debs on the front desk was always there to help and to make the process easier for the family.
Thanks so much for my grandad's headstone it is exactly what we wanted."
a loving Granddaughter
Nichola
Bespoke Design
We can create what you want
Whether you already have a clear idea or perhaps are daunted by the amount of choice available, we make it our mission to ensure you receive the headstone you want.
What's a good starting point?